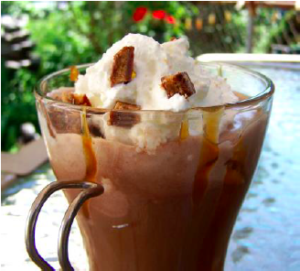 Hot Buttered Toffee Coffee
4 oz. coffee mocha ice cream
6 oz. hot coffee
1 tbs. butterscotch topping
2 tsp. almond liqueur
1 tbs. toffee pieces
whipped topping
Spoon ice cream into a large coffee mug. pour coffee, butterscotch topping and almond liqueur over ice cream. Top off with whipped cream and toffee pieces.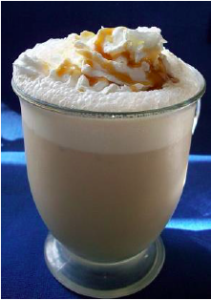 Creamy Iced Vanilla Coffee
4 c. coffee (cold or room temperature)
1 c. milk
1/3 c. French vanilla non-dairy creamer
1/4 c. caramel topping
3 c. crushed ice
whipped topping
Place all ingredients into blender and blend on high until the ice is completely smooth. Pour into glasses and top with whipped cream if desired. Serves 4
Iced Coffee Imperial
4 cinnamon sticks
6 c. coffee
1/2 c. heavy cream
sugar to taste
crushed ice
whipped cream
cinnamon
Add cinnamon sticks to hot coffee and let stand. Remove sticks, add cream and sugar (to taste) Chill, then pour into tall glasses, fill with ice. Top off with whipped cream and cinnamon.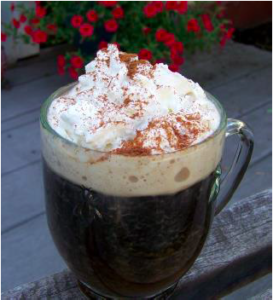 Mexican Coffee
1 oz. Kahlua
1/2 oz. brandy
1 tsp. chocolate syrup
1 dash of cinnamon
8 oz. hot coffee
whipped cream
Place Kahlua, brandy chocolate syrup and cinnamon in a coffee mug. Fill with hot coffee. Stir to blend and top with whipped cream.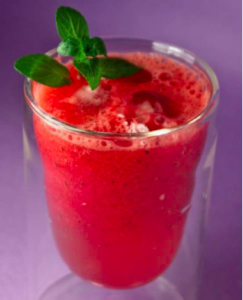 Strawberry Sencha Fresca
8 oz. strawberries (hulled)
1 tbs. lemon juice
1 tbs. honey
1 sprig mint leaves (12 small leaves)
2 c. Green Tea (iced)
Put all ingredients except the green tea into a blender and blend until smooth. Stir the mixture into the iced tea.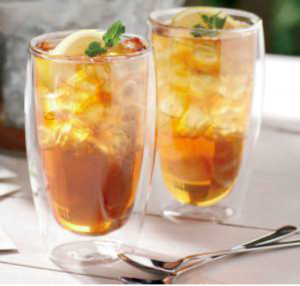 Green Tea Apple Sparkler
8 oz. Green Tea
3/4 c. apple juice
1/4 c. sparkling water
ice cubes
lemon/apple slices or mint sprigs
Add apple juice and sparkling water to the green tea. Pour over ice and garnish with fruit slices or mint.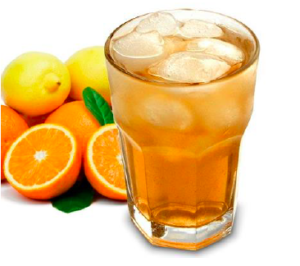 Citrus Black Tea 
8 oz. Black Tea
2 tsp. granulated sugar
1/2 c. orange juice
lemon juice
Add sugar and dissolve. Mix orange juice with the tea and add lemon slices. Chill in refrigerator or server over ice.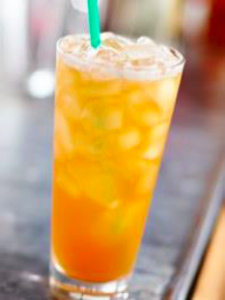 Black Tea Lemonade 
5 c. Black Tea
1/2 c. sugar
1 can frozen lemonade concentrate
5 c. water
Mix tea and sugar to dissolve. Mix water and lemonade in a pitcher. Pour the tea into the lemonade and refrigerate until ready to serve.